SNOWHOOK RACING
Established in 2004, Snowhook is comprised of race dogs, young dogs, old dogs, dogs who don't think they're dogs, and rescued dogs.
Best-Damn-Handling-Wife, Rebecca made a simple promise to AJ when he told her he wanted to run Iditarod: "I will do everything in my power to get you to the starting line, you have to get the team to the finish line."
Since making that promise, AJ has completed six Iditarod races, won two mid-distance races, has six top five finishes in other mid-distance races (and one sprint race), and received two Humanitarian Awards for giving exceptional dog care on the trail. As the care of our dogs is at the core of Snowhook, the Humanitarian Awards are a bigger honor than any first place finish.  AJ also has three nominations for Iditarod's Sportsmanship award to his credit.
Snowhook is committed to providing quality care to our dogs whether they be our race dogs, retired dogs, young dogs, old dogs, dogs who don't think they're dogs or rescued dogs.
They Want To Run  •  Need to Run  •  Love To Run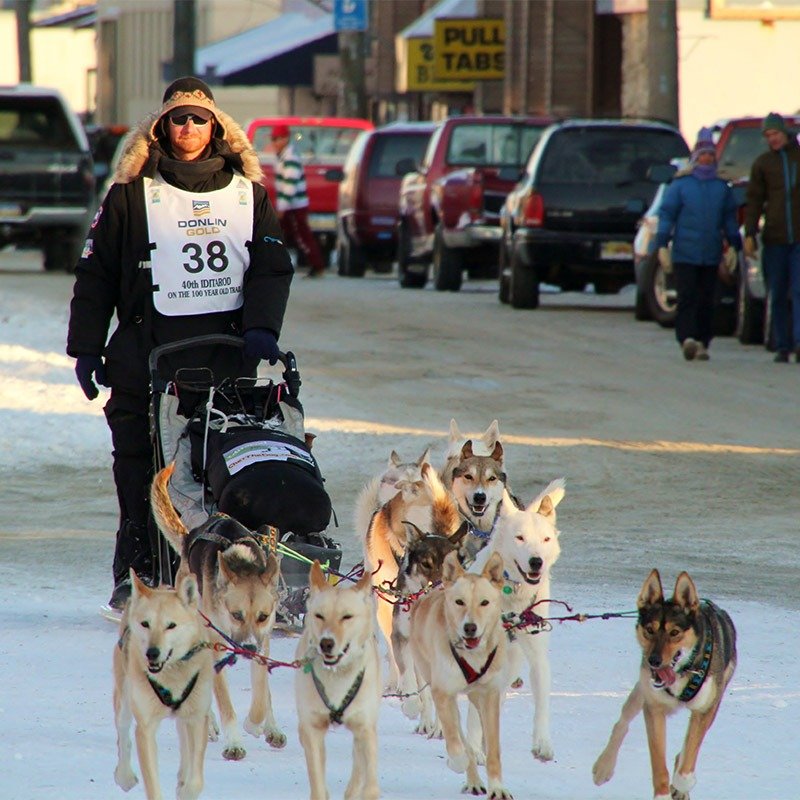 AJ's Race Record
2017 John Beargrease Sled Dog Marathon Race: 7th place
2016 Iditarod: 41st place
2016 Earl Norris Memorial Sled Dog Race (sprint race): 3rd place
2016 Northern Lights 300: 4th place
2015 Iditarod: 33rd place
Nominated twice for the Sportsmanship Award
2015 Knik 200: 4th place
2014 Iditarod: 34th place
2013 Iditarod: 38th place
2013 Northern Lights 300: 5th place
Rich Allen 'For the Love of Dogs' Award for exceptional dog care
2012 Iditarod: 44th place
Nominated for the Sportsmanship Award
2012 Don Bowers 200: 1st place
2012 Knik 200: 15th place
2011 Iditarod: 39th place in the 39th running of the Last Great Race
2011 Willow Tug 300: 8th place
2011 Don Bowers 120: 1st place
Humanitarian Award (the latter was by far the bigger honor)
2010 Iditarod: Scratch (thanks to Whitey-Lance)
2009 Goose Bay 120: 9th place
2008 Don Bowers 300: 3rd place
2008 Aurora 25/25: 4th place
2007 Knik 200: second to last place (thank you stomach flu)
Rebecca's race record
Being the best-damn-handling-wife for AJ's races
Thank You To Our Sponsors
Some dreams are not cheap.  The Iditarod and racing in general is just such a dream.  With dog care, dog food, race entrance fees, equipment, shipping, and transportation, Snowhook's expenses were approximately $25,000 per race season.
We gave and give our dream our all—all our effort, all our resources—yet a gap remained.  But, make no mistake, Team Snowhook is more than the dogs on the line or the musher on the runners.
​
Today, we give the same energy and focus we did to racing to sharing our Alaska adventures with guests of Snowhook Adventure Guides of Alaska (SAGA).  Although we are no longer actively racing, we wish to thank Team Snowhook.  Thank you to our corporate or individual sponsors—you made our starting lines, finish lines and all those miles in between possible.
Our dog dish runneth over,
AJ & Rebecca Savidis and the Snowhook Kennel Team
INDIVIDUAL SPONSORS
Coach & Bev Haun, Carol Lee Harris, Mark Atkins, Mick & Jodi Oxenrider, Kathleen Towns, Almitra Thomas, M.D. & Bobbie Thomas, Debbie Sanders, Dave & Jeanie Hanson, Keith Rivard
Chet the Dog Plunderers
Spencer Quinn, Dawson, SiberH, Barb & Maggie & Lucy, B. Stover, Bluecat, Rio the Evil Pug, Beau the Black Pug, Teddy the Ruff Rider of Chevy Chase, Staff, Alice M. Johnson and Abbie, Oley Howlers, Wolfie Wigglebutt, The Newf Pack, Masquers & Bear Spirit Dog, Natasia the Nefarious Borzoi, BooBear, Mollypop & Sam & LouLou, Carol Harris, Tupper & Gilly, Basil & Sage, Macy the MinPin, Rose Witte, Linda Jarzynski, Tyb, Herd of Hounds, Diane C., Scout, Cherokee & Tundra, Trisha Harding of the UK, Turtleman Fred, Catty Librarian