Alaska Fall Tours
Fall Dog Sledding Tour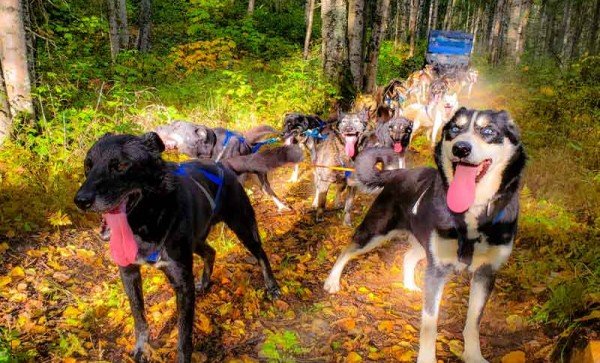 Rates:
$75.00 per person
This fall join us for a dog sled ride and experience the changing season. Instead of a sled and snow, your ride will be in our custom built 5 passenger side-by-side vehicle with a team of dogs training for the race trail. This pre-season preview gives you a behind the scenes look of how mushers and dogs prepare for the winter season.
CLICK TO SEE DETAILS
Tour Dates & Times
This tour departs daily at 10 :00 a.m. and noon.
This tour option is available mid-August through mid-November.
This tour is suitable for people of all ages.
Please let us know if you or someone in your party is uncomfortable around dogs so we can make it a successful experience for all involved.
Tour Details
Autumn is one of the most beautiful and quiet times of the year in Alaska. The leaves are changing, the weather is cooler and most importantly the mosquitoes from summer are almost all gone, too! It is also the time when mushers start to train their dogs for the winter to come and for races like the Iditarod Trail Sled Dog Race, the thousand-mile dog sled race across Alaska.
This tour includes all the elements of our winter dog sled tour with plenty of time to play with the dogs, take photos, and a beautiful ride with the team.
What To Bring & What To Wear
We recommend dressing in layers since it's autumn and it's Alaska.
On those cooler days, we can provide you with the outwear and footwear needed to keep you comfortable and warm on the trail.

Whats Included & Not Included
INCLUDED
• Professional expert guides
• Happy, happy dogs!
• Insulated outerwear and footwear
NOT INCLUDED
• Gratuities
• Shuttle from Anchorage (available for additional fee)

Where To Meet Us
We are an easy 70-minute drive from Anchorage to our location in Willow.
We are located directly across from the start of the famed Iditarod Trail Sled Dog Race start.

Do You Need A Ride?
SNOWHOOK SHUTTLE SERVICE
SAGA provides a shuttle to and from Anchorage for $100.00 per person. Transportation is available for the 10:00 a.m. tour only. A 2 person minimum per party is required for transportation.

Alaska Fall Tours – Epic Outdoor Adventures in Alaska's Wild!