Denali Tours
2 Day Denali Adventure Tours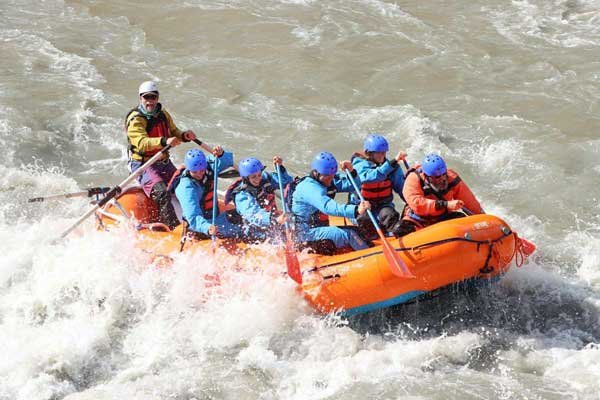 Summer Dog Sledding ~ White Water Rafting ~ Denali Sight Seeing
Rates:
$550 per person
Alaska is a big state and finding the best experiences can be a challenge as big as the state itself. The good news is that we have the perfect taste of Alaska which includes the best adventures in Alaska. Dog sledding, white water rafting and Denali.
CLICK TO SEE DETAILS
Tour Dates & Times
Day 1
Departing from Anchorage, the first stop is in Willow where the famed Iditarod sled dog trail race begins. We will stop by our kennel where you get to meet our over-the-top friendly sled dogs and Iditarod veterans. We will then go on a ride over our training trails and through the woods in our comfortable UTV pulled by powerful Alaskan huskies. This is an up close and personal experience where you get to learn how to build a relationship with the dogs and see them in action. This is the closest thing to mushing without the snow!
Our next stop is lunch at Sheep Creek Lodge along the scenic parks highway as we work our way towards Denali National Park. This scenic drive is one of Alaska's best kept secret and has plenty of opportunities to view Denali, wildlife, and scenic overlooks. Every turn is Alaska on display.
Arriving at our lodge for the night we will settle in before dinner at Creekside Cafe. The rest of the night is yours to enjoy hiking along side the river, shopping in town or simply take in the views.
Day 2
We're up and moving early to hit the river on a 3.5-hour rafting adventure. This gorgeous rafting trip follows the boundary of Denali National Park through glacier carved valleys and offers panoramic views of mountains, rivers, wildlife and much more. This trip has rapids up to class III but is mild enough for the entire family. (If you're looking for a little more whitewater, ask us about opting for a class III/IV trip.)
After we get off the river, we will enjoy lunch in town and then enjoy some time shopping at the dozens of small Alaskan shops each specializing in Authentic Alaska!
And finally, we will be returning to Anchorage.

Whats Included & Not Included
INCLUDED
• Transportation to and from Anchorage to Denali National Park
• Meals – 2 Lunch and 1 Dinner
• Lodging (Double Occupancy)
• Summer Dog Sled Experience
• White Water Rafting
THE FINE PRINT
• A two-person minimum is required to book this tour.
• This tour is suitable for children ages 12 on up.
• Weather may change our schedule of activities.
• Gear is provided for the activities.
• We are not responsible for mosquitos carrying you off.
Where To Meet Us
We will pick you up…