Alaska Helicopter Tours
Helicopter Flight Seeing & Glacier Dog Sled Tours
( Summer )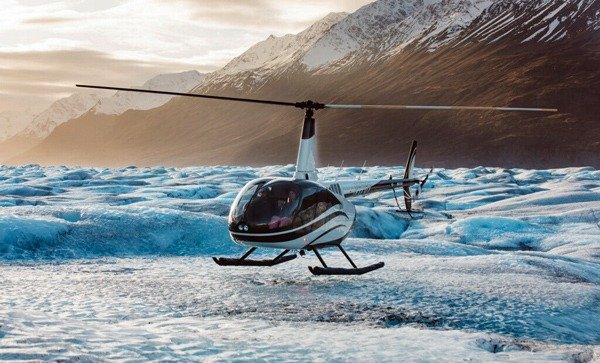 Rates:
$549.00 per adult
$519.00 per child 12 years old or younger
Experience the best of Alaska Helicopter Tours and Dog Sled on a glacier!
This combo tour includes a 35-minute helicopter flightseeing tour —- the most flight time of all glacier dog sledding experiences— into Alaska's backcountry on the way to the glacier where our team of professional guides and dogs are waiting for you. Soar in a helicopter over waterfalls, glaciers, wildlife, lakes, and mountains in this unparalleled flight. Our safe and experienced Alaska helicopter pilots provide an informative experience and will share their favorite aerial views with you.
CLICK TO SEE DETAILS
Tour Dates & Times
Tour is approximately 2.5 hours departing daily at: 8:30 | 10:30 | 12:30 | 2:30 | 4:30 | 6:30
Alaska helicopter tours & dog sled adventures are available early May through mid-August.
All flights are weather dependent.
If you have someone in your group that is uncomfortable flying or around dogs, please let us know. We will work with you to make your trip successful. We can accommodate people of all ages and abilities for this tour.
Tour Details
Located approximately 45 minutes from Anchorage, we are the premier experience for helicopter flight-seeing and dog sledding on a glacier!
Once you land on the glacier, you'll become fast friends with your guides and the canine athletes who are there to greet you. This dog sledding tour is more than a ride, it is an interactive experience. We invite you to meet the dogs, take plenty of pictures and get up close to the dogs who have run Iditarod and are our family.
After you meet and greet the dogs and hear a brief orientation, you'll head out on the trail with expert guides for a 40-minute dog sledding experience. You can choose to ride or help your guide drive our custom-made dog sleds.
Whether you are in the air or on the glacier, you will have a 360-degree view that few ever get to see. It is sure to be an adventure that will be the highlight of your vacation!
What To Bring & What To Wear
Weather on the glacier can be sunny to rainy.
We provide you with footwear and outerwear for the weather conditions, yet we recommend dressing in layers.
Don't forget your sunglasses, hat, and camera.

Whats Included & Not Included
INCLUDED
• Professional, expert guides
• Happy and friendly dogs!
• Footwear and outwear for glacier conditions
NOT INCLUDED
• Gratuities
• Shuttle from Anchorage (available for additional fee)

Where To Meet Us
This tour originates at Alaska Backcountry Cottages in Palmer, Alaska just an easy 45-minute drive from Anchorage.

Do You Need A Ride?
SNOWHOOK SHUTTLE SERVICE
Transportation to and from Anchorage is available for the 10:30 and 2:30 tours for $75.00 per person.

Alaska Helicopter Tours – Epic Glacier Flights & Dog Sledding Adventure