Alaska Adventure Tours
The Best of Alaska Adventure Tour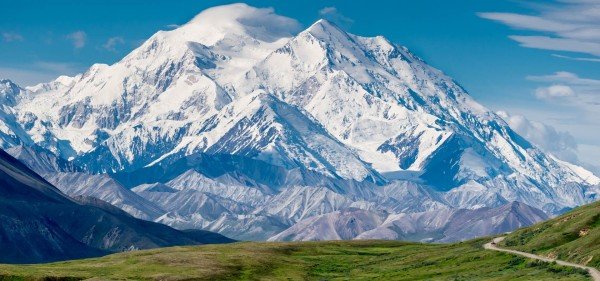 Day 1 – Seward / Palmer / Talkeetna
Arrival: Your personal trip guide will meet you in Anchorage from 11 a.m. to 12 p.m. at Ted Steven's International Airport or any pre-determined location in Anchorage to begin your tour experience.
Our first day together is a scenic drive along the coast to the small town of Seward, Alaska based on the edge of Resurrection Bay. Along the way we'll stop in Girdwood for lunch and take in the breathtaking sights of the Kenai peninsula.
Once we arrive in Seward, we'll enjoy a truly fantastic seafood dinner to cap off our night. You may want to take a stroll along the harbor docks before bed and take in the sights of the fishing fleet while harbor seals play nearby.
Day 2 – Whale Watching and Fox Island
Today we will be exploring the magic of Kenai Fjords, Resurrection Bay and remote Glaciers on a day long cruise with the most experienced captain and crews in the area. This amazing trip is a once in a lifetime experience where you can have an unforgettable sea life viewing experience.
The bay is alive with whales, orcas, sea otters and puffins. Not to forget the stunning craggy shoreline and glaciers around every turn. With luck you might also see a glacier calve off into the sea and watch the wave through the ice filled waters at their base. Throughout the tour everywhere you look you will see the majestic views that make this area a top destination when coming to Alaska.
And if the sea-life and glaciers aren't enough we will finish the cruise with a trip to Fox island. This secluded island and lodge is home to quiet beaches and a moment to soak it all in before we enjoy a prime rib dinner. Before we head back to Seward for the night don't forget to take that walk along the beach as the sun dips low on an amazing start to our trip.
Day 3 – The Seward Sea Life Center and Exit Glacier
This morning we will take a tour of Seward itself with stops to the sea life center first and then Exit Glacier before we make our way to Palmer for the next stop in our adventure.
The sea life center is a must do for visitors to Alaska as it is not only one of North America's largest marine aquariums it is also a marine rehabilitation center. It is a premier center for education and conservation.
Exit Glacier is our next stop for a light hike over the toe of the glacier. This glacier nestled in an alpine valley and offers stunning views is a rapidly receding glacier and tells an interesting story about our climate and environment.
Day 4 – Glacier Dog Sledding and Helicopter Flightseeing
Our day begins with a flight through one of the most stunning and remote areas of Alaska. Home to glaciers, lakes and icebergs, waterfalls and teeming with wildlife, the Knik River Valley is a place you will not soon forget on your way to a high mountain glacier dog sled camp.
Once at dog camp, meet over-the-top friendly Iditarod sled dogs and learn about a life lived with dogs as we take a dog sled team across the glacier. Simply ride along for the photos of a lifetime, or if you want a chance to help drive the sled, you can do that, too. Don't forget to thank the dogs for the ride and get your photo taken with Iditarod champions. They love the attention and you will have a memory for a lifetime.
Following the glacier, the afternoon includes an adventurous hike to amazing views of waterfalls, Lake George and high alpine vistas. After returning to the cottages, enjoy a break and free time in town before dinner.
Day 5 – ATV Backcountry Adventure
Get ready for the adventure of a lifetime! This world-class ATV tour to the Knik Glacier is an unbeatable experience. Our expert guides will take you through the remote, glaciated, backcountry of the Knik River Valley. They will lead you across beautiful meadows, splashing through mud holes, navigating rivers, forested trails, and past scenic mountains to the ultimate sight of Alaska's mighty Knik Glacier. This tour gives you an up-close and personal experience of Alaska's terrain, wildlife and grandeur. Whether you are a novice or an experienced rider this adventure is sure to be one for the books.
After getting fitted for gear, you'll receive a safety briefing and your guide will teach you how to operate your vehicle. You will leave on the ATVs/UTVs from the cottages, and within a matter of minutes feel like you are in the middle of nowhere—in a good way. This tour is 6-8 hours and about 50 miles round trip. Once at the Knik Glacier you will have a chance to explore the areas around the terminal moraine, soak in the views, and enjoy a hot lunch. After lunch you will begin the trek back to home base for some rest, relaxation, and a great meal.
Day 6 – Talkeetna Canyon Adventure
This morning, we leave the cottages and Knik River Valley to venture to Talkeetna, a small village that serves as the base of Denali. Enjoy spectacular views of North America's tallest peak and free time in Talkeetna to shop and take in the local culture. After lunch at Mountain High Pizza Pie we will explore Talkeetna Canyon on a jet boat adventure!
This jet boat adventure takes you within 60 miles of Denali — North America's tallest peak — and is narrated by Coast Guard licensed captains and trained naturalists. On a clear day, these are some of the best views of the mountain. During this tour, you can take a leisurely ¼-mile nature walk to visit an encampment of the Dena'ina, the first Alaskans in the region, and an authentic cabin of a trapper.
Day 7 – Denali Flight Seeing
Our last day will be the best yet. Flight seeing around the tallest mountain in North America! Afterall, seeing Denali from the ground is great.  Seeing it from the air is even better.  Landing on a glacier on the mountain is the best.  This adventure flight seeing trip will leave you breathless as you soar around the Denali and stand amongst the towering granite spires on the glaciers.
*Please note. We may switch this activity with the jet boat tour depending on weather conditions which may affect flights.
As with all things, they must come to an end. After our flight seeing trip we will return to Anchorage where we will say our goodbyes. We will be happy to return you to a hotel or Ted Stevens International Airport. We should be returning to Anchorage no later than 7 p.m.
 

CLICK TO SEE DETAILS
The Price
Well that's easy — it depends. Give us a call at (907) 414.4547 to discuss your ideas. A quote will be provided based on a variety of factors including: the complexity of the project, location, number of days and guides needed, and the equipment required.

What's Included
Coming Soon

Available Dates
Coming Soon

Custom Alaska Tours – Epic Adventure in Alaska's Wild!